CIGARETTE TYPE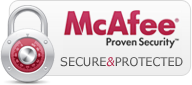 Glamour Secret Release and Refresh (Violet)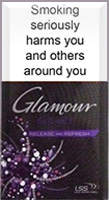 Price:

EUR

33.94

Glamour Secret Release and Refresh (Green)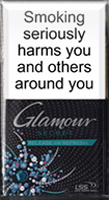 Price:

EUR

39.81

Glamour Cigarettes emphasize the individuality of each woman
Glamour cigarettes are light for the ladies, having a beautiful, enticing packaging and stylish, original taste and rather low price. The brand is produced by Glamour Gallaher Liggett-Ducat.
This cigarettes brand is popular among smokers who belong to beautiful sex, and occupies the second place. The first place was given to Vogue cigarettes, which are considered to be extremely elite.
Glamour cigarettes are twice cheaper, but have a number of features that attract ladies globally. For example, their packaging system is convenient and thin, and does not take up much space in the woman's purse. Glamour cigarettes render a peculiar soft taste due to the use of light and high quality aromatizers applied by tobacco manufacturers. This allows smoking to be frequently used.
All ladies on this Earth are characterized by tendency to illuminate this world with a perfect beauty of their appearance and spirit. And those ladies, who smoke on a daily basis, are a vivid example that this is possible. All what they crave for is a trademark, allowing them convey their delicacy and fascination. An unbelievably-looking lady, sharing tasty aroma of light smoke, logically, is worth to be looking at and admiring at the same time, isn't it?
If you want to be the part of this process, you need to opt for Glamour cigarettes, an exclusive brand for exclusive ladies.
The advertising slogan of Glamour cigarettes is "A graphic detail", and this is more than justified, as the pack design is differentiated by rich, vivid colors.
Firstly, Glamour cigarettes were released in 2005, and without resorting to strong advertising support, within 2 years they built loyalty and notoriety by female smokers in 17 European countries.
Today, Glamour cigarettes do not need advertising any longer, they are known and sold. Their cost is acceptable, the design is bright and attractive and quality of aromatizers is of first-class.
Glamour cigarettes are also produced by the technology that contributes to the reduction of smell of tobacco smoke - Less Smoke Smell (LSS). They look like a beautiful accessory that can emphasize the individuality of each woman.
The Gallagher Company is doing it s best to fulfill all the expectations of its consumers and introduces a great assortment of its branded cigarettes. The same concerns the Glamour brand. That was the way the popular varieties of Glamour Amber, Glamour Lilac, Glamour Azure, Glamour Super Slims Menthol, Glamour SuperSlims Pinks occupied their decent place in the international market.