CIGARETTE TYPE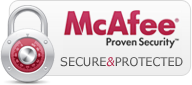 Kiss Super Slims Jolly (Strawberry) 100s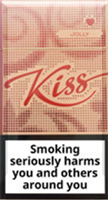 Price:

EUR

55.68
3 cartons minimum
Kiss Super Slims Energy 100s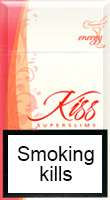 Price:

EUR

52.70

Kiss Super Slims Fresh Apple 100s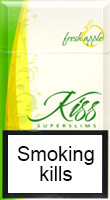 Price:

EUR

52.70

Kiss Cigarettes – really suitable for women
Kiss cigarettes, characterized by striking design, are produced by JSC "Donskoy Tabak" under the control of Innovation Tobacco Company LTD, London, England.
This product appeared relatively recently in the market - about ten years ago. The main and most distinctive feature of these cigarettes is a wide variety of tastes. The compact size allows carrying them in the most exquisite female handbag quite easily.
The name of the cigarettes is translated as a kiss and associated with the female view of life and pleasantness of feelings. According to the elegance and design, this product is really suitable for women. A refined aroma will satisfy even the most demanding lovers of cigarettes, which are manufactured on the model of American blend.
They differ not only in aroma, but also in size. There are produced two types of cigarettes - Mini and Superslims. Small size is 5 х 48 millimeters as regards super slim; they are slightly larger - 100 millimeters. Butall varieties have one advantage – a small amount of nicotine that is from 0.4 to 0.6 milligrams per cigarette. Where are Kiss cigarettes produced?
Kiss cigarettes are produced all over the world, though under the control of the British tobacco company. The place where they are produced - is known all over the country. This is Tobacco Factory - "Donskoy Tabak". The company with a long history is renowned for the quality of its products.
The beginning of product creation is quite interesting. The production history of the cigarette brand "Kiss" began in 2004: there were negotiations about the joint launch of a new product between "Donskoy Tabak" and the ITC. There was signed a joint project of the British and Russian manufacturers of tobacco products. The first output was produced in 2006. Why are Kiss cigarettes so popular? Tastes and flavors - this is their main advantage!
These cigarettes immediately became popular. The aroma of apple is very original and unusual. Cigarettes do not render the smell of smoke. There is used hookah tobacco as an additive in the production process. The aroma line includes not only the apple. There are used: a ripe peach, caramel, menthol, lime, strawberries and many other ingredients during the process of production.
What flavors can be found in Kiss cigarettes? These are mainly fruit aromas, but there are also the original ones, for example, with a taste of the chewing gum. It is interesting to try, how it will be to the taste.
While smoking of these cigarettes, one does not feel unpleasant smoke usual for other tobacco products. In comparison with the other well-known foreign brands of cigarettes, as well as domestic products, "Kiss" is regarded as a true competitor. Tobacco quality is quite high, and the variety of flavors of these products remains out of reach.