CIGARETTE TYPE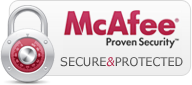 West Rich Blue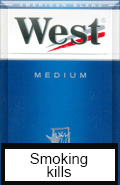 Price:

EUR

18.82

West Ultra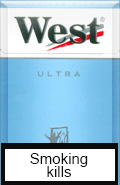 Price:

EUR

18.82

West Red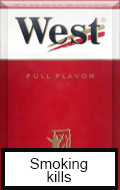 Price:

EUR

19.20

West Stream Tec Lights (Silver)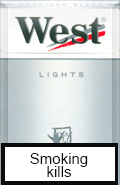 Price:

EUR

19.20

West White Compact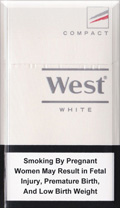 Price:

EUR

19.97

West Black Compact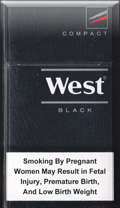 Price:

EUR

24.77

West Silver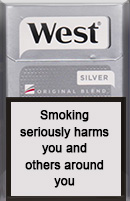 Price:

EUR

33.22

West Red Beyond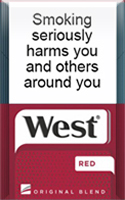 Price:

EUR

57.12

West Compact Plus Duo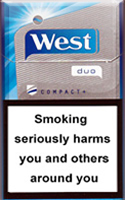 Price:

EUR

59.04

West Fusion White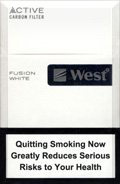 Price:

EUR

59.04

West Silver Fusion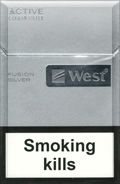 Price:

EUR

59.04

West Blue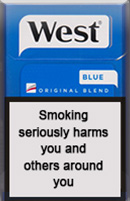 Price:

EUR

67.68

West Cigarettes even today do not hand their positions over
West cigarette have long been known in the tobacco market. West Cigarettes first appeared in the German market in 1981 and were originally available only in specialized tobacco shops. Namely Marco West cigarettes brand was the first trademark in the world that began to use the popular American tobacco blend.
The start of the sales of the new brand was accompanied by a dynamic advertising campaign under the slogan «Let's go West!». Thanks to a successful pricing policy, positioning quality at a reasonable price, the brand has become one of the leading ones in Germany in a year.
In 1986 there was launched an advertising campaign «Test the West!», that significantly increased the brand awareness. The success lies in the simplicity and originality of the action.
Promoters in pubs, bars, restaurants and discotheques have offered young people who were blindfolded to try West cigarettes, to compare them with those they usually smoke, and make a choice in favor of this or that brand.
Many participants in this test once celebrated taste and high quality of West cigarettes. Learning that these cigarettes, moreover, are cheaper, most opt for this new brand as a good style of smoking. Unusual advertising campaign popularized the brand, and the Reemtsma Company decided to expand the usual channels of sales. So, West cigarettes appeared on the shelves of supermarkets and vending machines.
In 1989, there took place the launch of West Lights cigarettes production. Expansion of the range and the high demand for cigarettes allowed the brand to begin selling its products in the Eastern and Central Europe already in two years. Particularly successful debut took place in Slovakia, Slovenia and Poland, where West cigarettes even today do not hand their positions over.
Their manufacturers carefully preserve the tradition of growing tobacco for years and use proven recipes, carefully control the quality of the blend. That is why West cigarettes are very popular far more than a decade. We have only original products!
In June 2009 the Imperial Tobacco company launched a new version of West cigarettes - "West Tri-logic", offering a carbon filter - Tri-loqic (the main feature of West cigarettes). The new brand includes three versions:
West Tri-logic Red Tar content - 10mg Nicotine content - 0,8mg
West Tri-logic Silver Tar content -6mg Nicotine content - 0,5mg
West Tri-logic Blue Tar content - 4mg Nicotine content - 0,4mg
Imperial Tobacco offers West cigarettes internationally and this factor will expand the company's presence in the tobacco sector. Design of the latest product was made in silver, white and red tones. The brand slogan is "The trilogy of success" - combines three advantages of the brand: quality of international level, modern design and affordable price.