CIGARETTE TYPE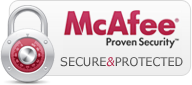 Brand Lucky Strike Cigarettes
Lucky Strike Original Red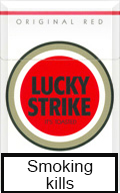 Price:

EUR

68.71

Lucky Strike Lights (Blue)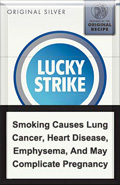 Price:

EUR

69.25

Lucky Strike Cigarettes – consumers immediately observed a new brand
Lucky cigarettes are a brand of American cigarettes. It is one of the oldest cigarettes brands, dates back to 1871. In 1905 it was acquired by the American Tobacco Company (ATC), which later became British American Tobacco.
The new economical owner did not throw the burnt tobacco, but slipped it to the usual blend, and suddenly received a new taste. There was invented an ambiguous name was for a mixture, lucky strike, usually translated as "successful hit," can also mean "lucky strike" prepared by protestors.
Initially, under the brand name Lucky Strike a cigarette there was produced and marketed a compressed tobacco to the population. However, for a long time nothing special was observed concerning the brand and was just one of many brands in the United States. Everything changed in 1905, when Lucky Strike decided to buy the American Tobacco Company. And not just buy, but also earn money with the help of this brand. Marketers have relied on the sonorous name; which fully complied with the spirit of the times, and moreover to the very American dream.
One successful investment could bring millions of dollars. And the ability to seize the moment and make a bet on luck valued more than the in-depth knowledge and practical experience. Consumers immediately observed a new brand, but the real explosion was ahead. War has always been the best time of promotion of such "soft drugs" like alcohol and tobacco.
So when World War II took place in Europe, and American soldiers went overseas, Lucky Strike cigarettes were right there. They were there to stand out among other brands, manufacturers even changed the design of the pack. There appeared a red-and-white one instead of the green range.
For a similar rebranding there was immediately invented the patriotic explanation. Lucky Strike manufacturers claimed that they changed color, because the green paint contains copper, and this metal is needed to the military. Idiotic explanation, isn't it? Certainly. But it worked. Yes, and thus made it possible to reduce production costs. This is due to the fact that extra color means extra money. At the end of 2006 in North America Luckies production was minimized, but the British American Tobacco continues to promote and support the brand.
R. J. Reynolds continues to produce non-filter cigarettes. In 2007 there appears a new "double" package, where 7 cigarettes were separated from the rest. In the same year there was advertising with the participation of Xe Pingping (He Pingping), who is the smallest man on the planet.
In 2009, the British packaging changes the classic red "light" variety of Lucky Strike circle to blue one for the buyers to be easier to distinguish a strong variety from a light one.